Installed once, sealed twice.
Framo Morat's new PoolCoverDrive equipped with the AQUASEAL Technique has been developed specially for use as a drive for underwater swimming pool covers. These drives are installed under water and must therefore be 100% watertight.
And exactly this feature makes Framo Morat's new PoolCoverDrive stand out – because each of our drives is submitted before delivery to a 100% leakage test in the test stand developed specially for this purpose!
The use of a high-quality double-walled stainless steel housing ensures maximum resistance against chlorine and seawater. A double enclosure and redundant sealing of all mechanical interfaces ensure long-term tightness at a water depth of 2.5m
Every two years, the trade journal "Schwimmbad + Sauna", Europe's largest pool & spa magazine, decerns the Golden Wave Award. This prize honors, in eight categories, companies of the swimming pool sector for their outstanding innovations. We are proud that our PoolCoverDrive, developed in co-operation with Bieri Alpha Covers and known in this Company under the name "Nautilus F2", has bee distinguished with the Golden Wave Award 2015 in the category "Roofs and Covers".
The ideal drive for underwater pool covers
Zero maintenance and long-term watertightness are the indispensable prerequisites for an electrical drive that is to operate with perfect reliability under water – no problem for Framo Morat's PoolCoverDrive equipped with the Aquaseal Technique!
PoolCoverDrive - Technical Data
Exclusively high-quality materials (316L stainless steel, POM) are used for all parts that are directly in contact with the water. This guarantees highest reliability and a maximum service life.
Two housings sealed independently of each other minimise the risk of a leakage.
High-quality seals ensure maximum safety at every relevant location.
The DryPack prevents the formation of condensation water inside the housing.
Caution:
On many other drives, in case of incorrect mounting of the drive disk (insufficient axial play), thermal expansion of the winding shaft can apply unallowably high axial loads to the output shaft, which can lead to the blocking of the gear and / or to leakages.
This is why our PoolCoverDrive is equipped with an axial load limitation integrated in the drive disk, which avoids unallowably high axial loads on the output shaft, even in case of an installation without axial play.
This results in a significantly facilitated installation, which in the same time leads to higher safety in operation and less downtime.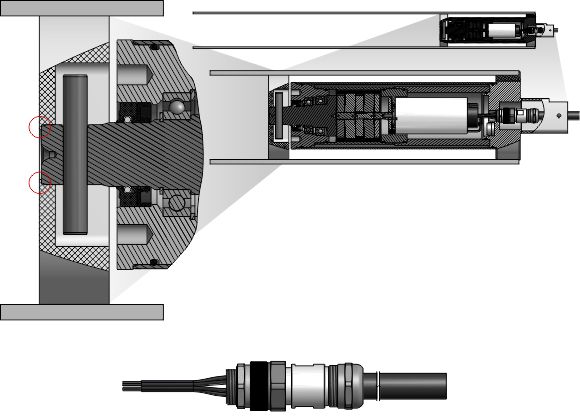 Concept of an underwater pool cover
Underwater pool covers are without any doubt the most elegant solution for covering swimming pools, since their use does in no way affect the idyllic landscape of the swimming pool. While the opened cover lies directly on the surface of the water, it disappears discreetly under water when it is rolled up. The electrical drive is mounted directly in the pool and can thus easily be retrofitted or modified. The long-term operation under water poses a basic requirement with respect to the drive: absolute watertightness!
A pool cover ensures more safety for people and for animals.
The use of pool covers reduces significantly water contamination.
Covering the pools allows saving a large part of maintenance costs for energy (heating / air drying in case of indoor pools) and water treatment (chemicals and cleaning), a suitable pool even helps heating the pool up.
Underwater pool cover roll-up systems
Underwater pool covers allow covering not only rectangular standard pools, but also most of the free-shape pools.
Various solutions are available, depending on the structural requirements and the personal preferences (see ex. 1-7).
Underwater pool cover roll-up systems equipped with a drive mounted directly inside the winding shaft can easily be retrofitted in existing pools, either with a flange screwed in the sidewall in case of concrete or masonry pools (ex.1), or mounted between two stainless steel plates for liner or GRP pools (ex.2).
Underwater pool cover roll-up systems offer many advantages compared with other solutions:
The pool cover is only visible when it is in use.
Also irregular pool shapes can be covered perfectly.
Retrofitting or modifying is generally possible without any problem.
So why are not all pool systems equipped with underwater pool cover roll-up systems? One of the reasons is the fact that, with this construction, the drive is installed constantly under water, and that, with time, many drives loose their most important characteristic – watertightness.

Framo Morat's PoolCoverDrive, equipped with the Aquaseal Technique puts an end to this weakness. The structural design of the drive and the use of high-quality materials ensure long-term watertightness – and therefore make the underwater pool cover roll-up systems all the more attractive.